It's Wednesday and I'm writing my weekly Monday post. I'm my own publisher so I guess that means I'll have to discipline myself. Maybe I'll dock my pay. Wait. I don't get paid for my blog. I'll have to figure out something else, like depriving me of chocolate for a week.
I added 2,000 more words to THE SWORD SWALLOWER'S DAUGHTER and introduced my little Sheila to one of my favorite folk singers of all time,
Joan Baez
. By the way, on March 6th my daddy, who really was a sword swallower, would have been 77 years old. Sadly, he passed away in 1989 while I was living in Japan.
This month's
Backspace
short story contest required a story about someone who came into a large amount of money, and the story has to have a river in it. This round may be tough competition because first prize is a signed copy of
FINN
by
Jon Clinch
. I have my own copy, of course, but if I win the contest and get this signed copy, I'll run my own contest in Ovations to give away my first copy. (I won a signed copy of
Sara Gruen
's
WATER FOR ELEPHANTS
in the last Backspace short story contest. I'll have to think up a contest for next week to give away my original copy of Gruen's wonderful book.)
So, after a week submerged in the brilliant darkness of Clinch's FINN, I have returned to blue skies and heroes. Last week I called FINN extra-dark, Belgian chocolate. Having now finishing the book I'm suggesting it's more like aged port wine. The prose is intoxicating and the story is addictive. The conclusion ferments the pith of Twain's river saga with Clinch's detached storytelling for velvet-rich satisfaction.
Barnes & Noble's Online Book Club
is discussing Twain's and Clinch's books side-by-side this month and Clinch has been logging in to talk with club members. He's a great guy, very approachable, and welcomes intelligent discourse.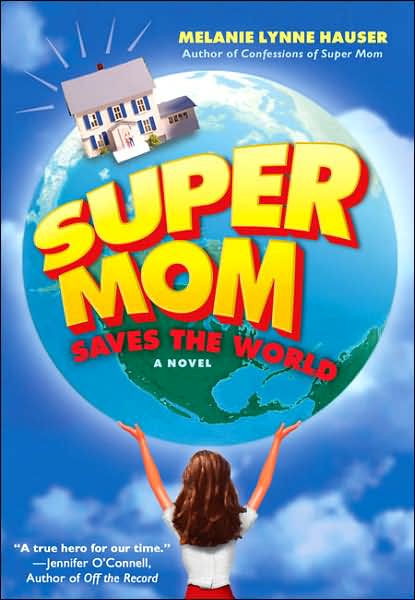 And now I'm reading
SUPER MOM SAVES THE WORLD
,
Melanie
Lynn Hauser
's sequel to the acclaimed
CONFESSIONS OF SUPER MOM
. After a week on the dark Mississippi River of Pap Finn, the bright world of Hauser's Birdie Lee is welcome contrast. Birdie Lee is the secret identity of Super Mom, who survived a Horrible Swiffer Accident that turned her into an apron wearing, mess-cleaning, crime-fighting super hero who wants to fly. Okay, so a Swiffer accident turns divorced mom into a super hero is kind of a literary stretch. But Hauser's voice is so engaging, her perceptions of culture so astute, her bright voice never tries to convince you that stupidity is funny. Here is my favorite line in the book so far, when Birdie is fretting over her teenaged daughter's new friend Vienna: "... if recent history has taught us anything, it's that a girl named after a foreign city is going to be trouble."
Still on my reading list: